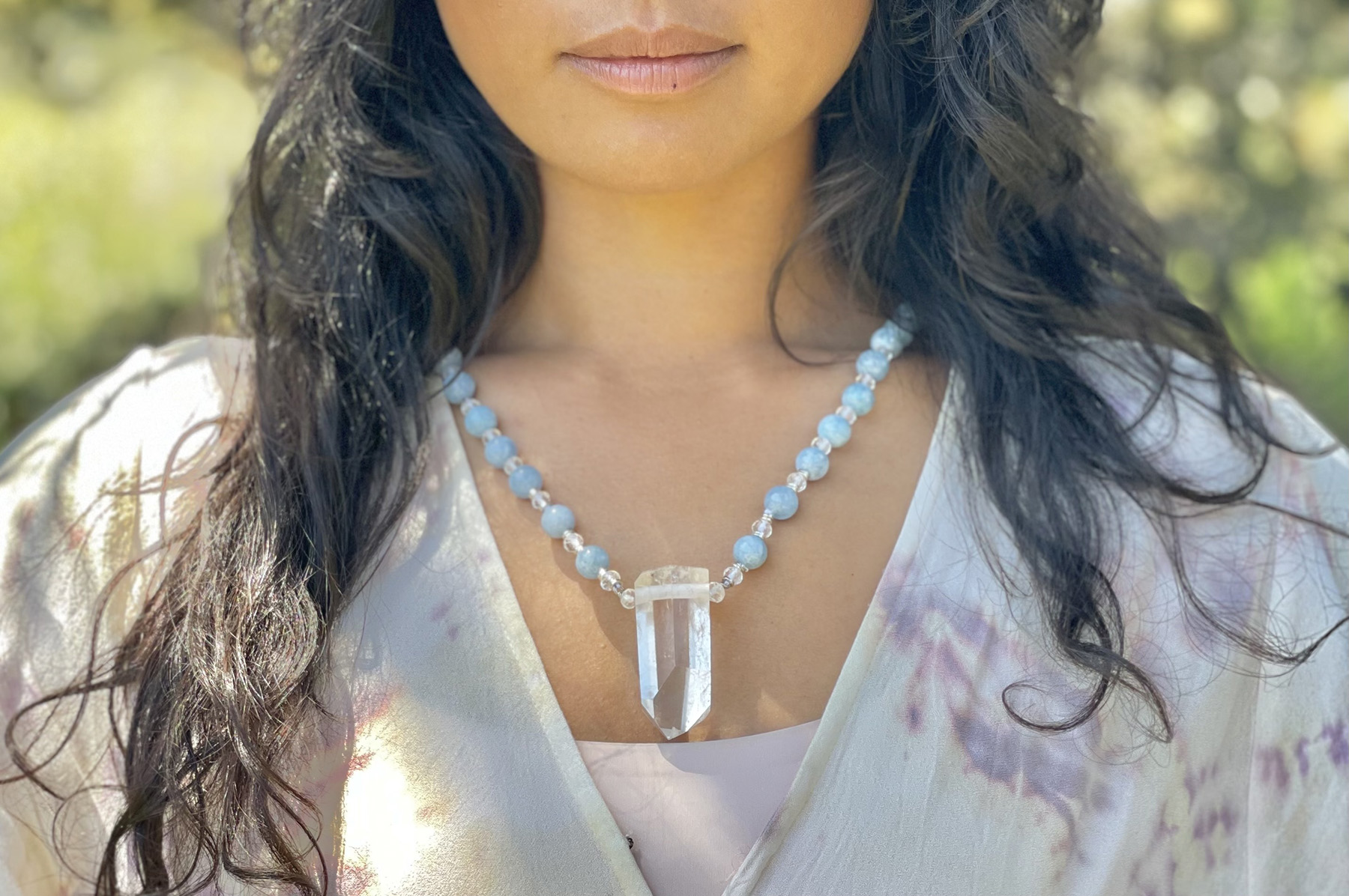 LEARN MORE
Crystal medicine & Sacred Jewelry
SHOP
All our crystals are natural and from the mines of Brazil.
Our designs are unique just like you.
SHOP
Our jewelry are all nickel free and eco friendly made with high quality plated silver and gold.
LEARN MORE
Elevate your energy!

Crystals / Sacred Jewelry / Kundalini / Yoga / Holistic therapies
SHOP
Healing experiences with crystals and sacred natural medicines.
This is our beautiful Rose earrings in a silver version made with Rose Quartz.

Delicate earrings silver plated with a small triangle in a faceted Rose Quartz.

Our products are made in Brazil from sustainable and eco-friendly materials.

height: 5,5 cm / 2.5 inches

How about carrying with you an amulet that will help you vibrate in the frequency of love?

This beautiful necklace is made with a beautiful piece of raw Rose Quartz, completely natural so you can feel its vibration even more.

The chain is the Snake type made with a high quality silver and 3 small diamonds made of zirconia on the side of the crystal making these piece very sophisticated

 Lenght: 70 cm + 5 cm extension.

Small hoop gold plated 18K with engraved detail of the sixth chakra symbol and small cut tip of Clear Quartz.

"A small amulet for you to always have with you."

Our products are made in Brazil from sustainable and eco friendly materials.

Our jewelry are nickel free and made of a high quality gold.
I love RamaCrystals jewelry because it helps me to feel connected, with self and with the ethers. Each piece is designed with so Much love and intention and you can feel it! I can wear it to enhance my meditation practice and music creating or I can wear it out to dinner, very versatile! My favorite piece is the Rose Quartz Mala with the Quartz point. Its energy is so powerful and it sits around my heart when I'm needing that extra TLC. It's like a big hug from the cosmos saying, "I Got U!" Thank you Rama for bringing the technology of the crystal queendom to our homes with quality and style.
RAMA is a jewelry brand with beautiful pieces! In addition to the charm and design of the pieces, they are also made with a variety of Brazilian stones. It's hard to choose just one!
Rama crystals manifests so much powerful healing energy, and balance to my daily meditation practice, and life. It connects me to my divine truth, heart, and spirit so I can keep up and shine bright into the world! I am truly honored for Rama Crystals, and for all the love and light it brings to my life! Sat Nam!
I love Rama crystals jewelry, besides the exclusive design the crystals are of high quality and have brought me beautiful experiences.